Sub250 breakfast briefing
Date: 18 Mar 2020
Time: 8:00 AM - 10:30 AM
Designed for Founders, CEOs & Managing Directors of growing organisations, SUB250 is a breakfast briefing event dedicated to helping companies below 250 staff compete for the best talent.
Start your day right with talks on how to build your HR and recruiting strategies from Myhrtoolkit and hireful, meeting & networking with other Sheffield based business leaders… and enjoy a free breakfast on us too.
Itinerary
8:00am – 8:45am: Welcome, breakfast and networking opportunity
8:45am – 10am: Talks from Adrian McDonagh, founder of hireful and Jon Curtis, Managing Director at Myhrtoolkit.
10:00am – 10:30am: Post talk networking opportunity
talk topics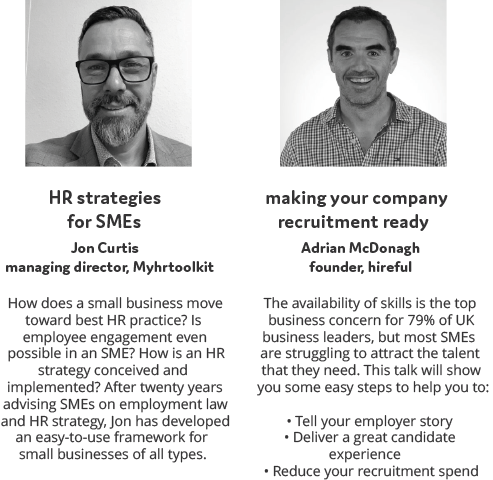 About Myhrtoolkit
Myhrtoolkit empowers SMEs with easy to use, highly secure HR software that reduces admin burden and manages legal compliance . With no hidden costs and unrivalled customer support, myhrtoolkit is the ultimate online HR system for staff holiday planning, absence management, HR documents, reporting, training management, and more. Certified with the international data security standard ISO 27001 and rated as excellent on TrustPilot, myhrtoolkit is chosen by more than 1,000 SMEs and used by over 55,000 employees within the UK.
About hireful
hireful are a recruitment company who do things a little different.
We're here to make sure that 'everyday' organisations can compete with the big brands for talent. Whether that's with online advertising, agency services, recruitment software or our free training events, we work hard to be the most helpful recruitment company you've ever seen.
Terms & Conditions
This event is exclusively for Managing Directors, CEOs, Founders, HR professionals and in-house recruiters at UK based organisations, who are under 250 staff only. There is a maximum of 2 tickets per organisation.
If you would like to request more than this, please email us at training@hireful.co.uk. hireful ltd reserves the right to cancel bookings from recruitment consultants or those who work for a recruitment agency, RPO or Job Board (within any department).
In very rare circumstances the workshop may be cancelled or postponed. In these cases will contact you by phone and email, it is therefore imperative that you provide the correct information. Failure to provide all the details we require on the registration form may result in your booking being cancelled.
By registering for this event you agree to be added to hireful's mailing list. If you would prefer not to receive emails about hireful's services and free training events you can unsubscribe at any time.
hireful will not share any of your personal information with third parties unless we are hosting an event with an external individual or organisation. In these cases, some of the information you provide us will be shared with this party only.
Location: The Balance